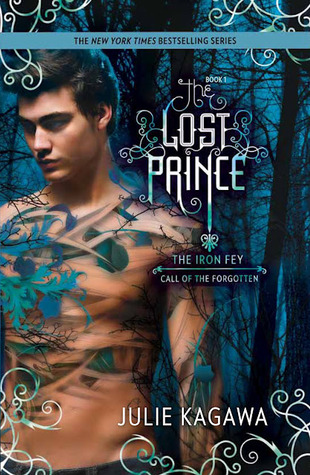 Title: The Lost Prince
Author: Julie Kagawa
Published: October 23rd 2012
Publisher: Harlequin Teen
Pages: 377
Series: The Iron Fey: Call of the Forgotten #1
Genre: YA, Fantasy, Paranormal, Magic
Rating: 4/5
Don't look at Them.Never let Them knowyou can see Them.


That is Ethan Chase's unbreakable rule. Until the fey he avoids at all costs—including his reputation—begin to disappear, and Ethan is attacked. Now he must change the rules to protect his family. To save a girl he never thought he'd dare to fall for.




Ethan thought he had protected himself from his older sister's world—the land of Faery. His previous time in the Iron Realm left him with nothing but fear and disgust for the world Meghan Chase has made her home, a land of myth and talking cats, of magic and seductive enemies. But when destiny comes for Ethan, there is no escape from a danger long, long forgotten.


My name is Ethan Chase.And I may not live to see myeighteenth birthday.-Goodreads
I received an ebook copy of this novel from Netgalley.
*I received this arc in 2012, but never got around to reading it!!*
I read the first book in the main Iron Fey series (the series that this series spins off) in 2012 and I didn't enjoy it very much, I found Meghan to be a very dislikeable character, and I have never continued with the series. However I am currently trying to read books that I received from Net Galley and never got around to reading so I decided to tackle this one.
I was pleasantly surprised by how much I enjoyed this novel. It's a very quick read, it took me very little time to get through it, and at times I even wanted to read on to see what happened.
Although I couldn't remember anything about the Iron Fey world or the characters, very little background knowledge was required to enjoy this novel, I managed fine! I don't know if this series spoils the Iron Fey series if you read it first, so I couldn't give you any advice on which to read first.
Ethan is the main character in this book, he is Meghan's half brother, and I must admit I like him more than Meghan. Be warned though, this boy has teenage angst by the bucketful, it basically oozes out of his pores! However I still liked him, even through the angst and self pity. He pushes everyone away because he is avoiding the Fey that follow him around, because they know he can see them. However, when he moves to a new school he meets Kenzie, a girl who won't go away no matter how hard he pushes.
To be honest I found Kenzie to be a pretty annoying character, but the two of them compliment each other, and together I actually really liked them.
The plot of the book was pretty well paced, it has action and an interesting mystery running through it, which kept my interest fairly well. A number of characters from the Iron Fey series featured in this novel too, including Meghan, Ash, Puck and the cat Grimalkin, although I couldn't really remember anything about them.
Overall I rather enjoyed this novel, and I'm tempted to revisit the Iron Fey series and give it another chance.