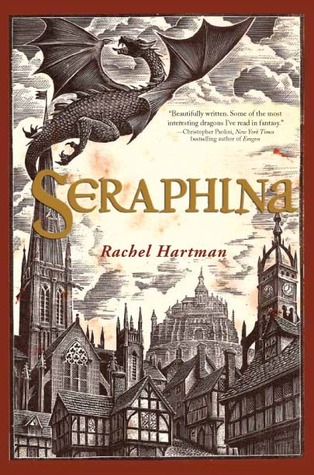 Title: Seraphina
Author: Rachel Hartman
Published: 10th July 2012
Publisher: Random House Children's Publishers
Pages: 467
Series: Seraphina #1
Genre: YA, Fantasy, Dragons, Romance
Rating: 4.5/5
Four decades of peace have done little to ease the mistrust between humans and dragons in the kingdom of Goredd. Folding themselves into human shape, dragons attend court as ambassadors, and lend their rational, mathematical minds to universities as scholars and teachers. As the treaty's anniversary draws near, however, tensions are high.




Seraphina Dombegh has reason to fear both sides. An unusually gifted musician, she joins the court just as a member of the royal family is murdered—in suspiciously draconian fashion. Seraphina is drawn into the investigation, partnering with the captain of the Queen's Guard, the dangerously perceptive Prince Lucian Kiggs. While they begin to uncover hints of a sinister plot to destroy the peace, Seraphina struggles to protect her own secret, the secret behind her musical gift, one so terrible that its discovery could mean her very life.- Goodreads
When I was younger fantasy was definitely my favourite genre of books, and any novel with magic or dragons was right up my street. When I reached my mid-teens I went on a paranormal rampage and fantasy was forgotten. I've recently started to pick up more fantasy, and this was a YA fantasy read that had been on my TBR shelf for a while.
It is the story of a girl, called Seraphina, who is an illegal half dragon half human and works as assistant to the Court musician.
This is a really enjoyable novel, the plot is fast paced and action packed, although it does take a little while to get started. I really enjoyed the idea of the dragons being able to sort of fold themselves into human bodies. I think this added a whole new dimension to the human/dragon relationship. Another aspect of the novel I liked was the Treaty of Peace between the Dragons and Humans. It was very interesting to see the different parties that fought for the peace and the humans who were fearful of the dragons but saw themselves as better than them.
Seraphina is the main character in the novel, and I really like her. She is an awesome female protagonist, she is fearless and tough, but also smart and she made none of the "typical" stupid decisions that YA heroines tend to make. She was so honest but not at all self pitying about her less than ideal circumstances.
This novel also had a host of other female characters who were wonderfully crafted by the writer. They were multi dimensional and strong, which was great to read. Glisselda was another of my favourite characters, she was graceful and strong and didn't rely on the male characters one bit.
I also love the character of Kiggs; Prince and love interest to Seraphina. He was so endearing and completely won me over. He was honest and caring and treated Seraphina with respect. I definitely want to read more about him in the sequel. The relationship between him and Seraphina developed nicely, the attraction between the two developed slowly, it was subtle and not forced upon the reader.
The novel itself was also beautifully written. The imagery was wonderful, the book was a pleasure to read.
Overall I gave this novel 4.5/5 stars and this is definitely one of the best books I have read this year, and one of my favourite YA fantasy books that I have ever read.
Favourite Quote: "That's the secret to performance: conviction. The right note played tentatively still misses its mark, but play boldly and no one will question you." Pg 165
Check the novel out on Goodreads here
Follow me on Goodreads here